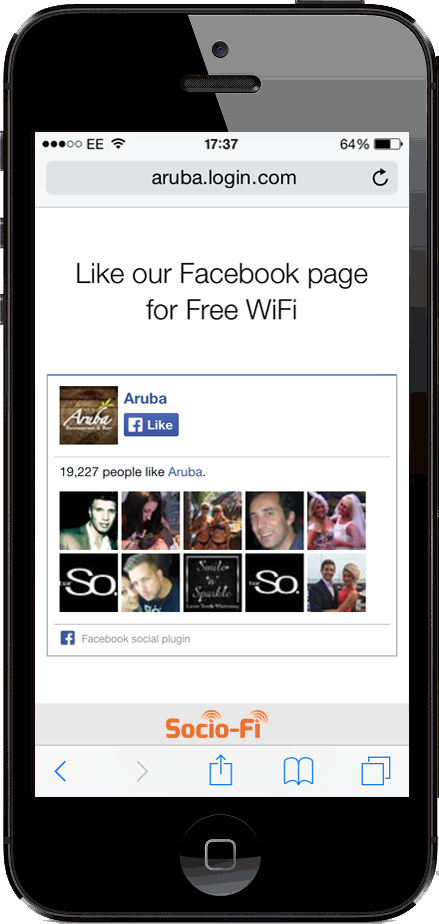 Automatic Facebook Likes
Grow your social media presence by increasing your audience on Facebook and Twitter.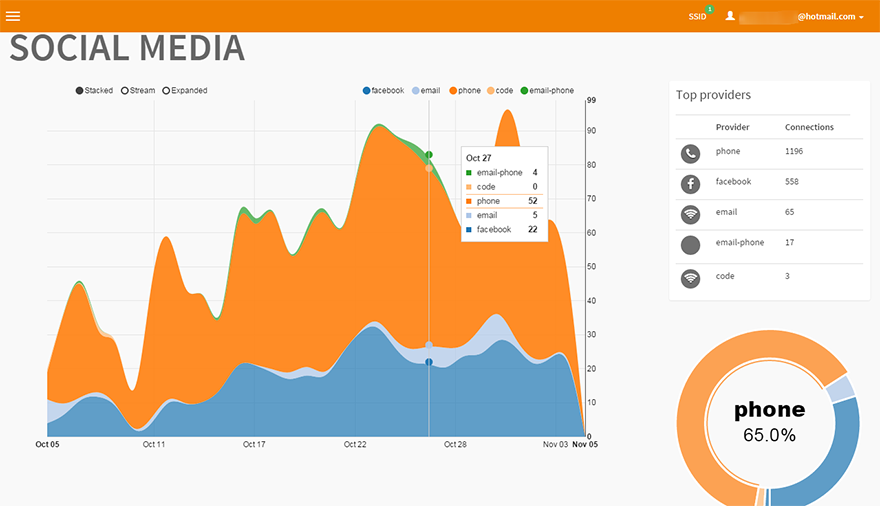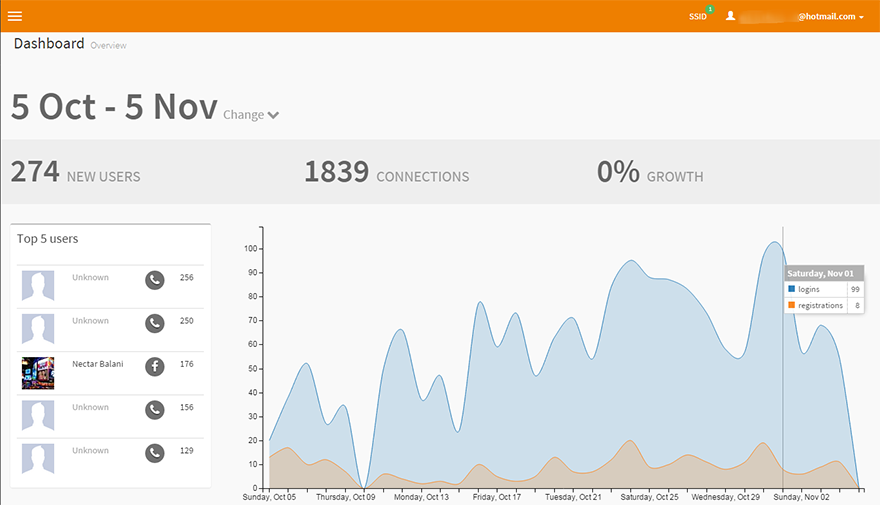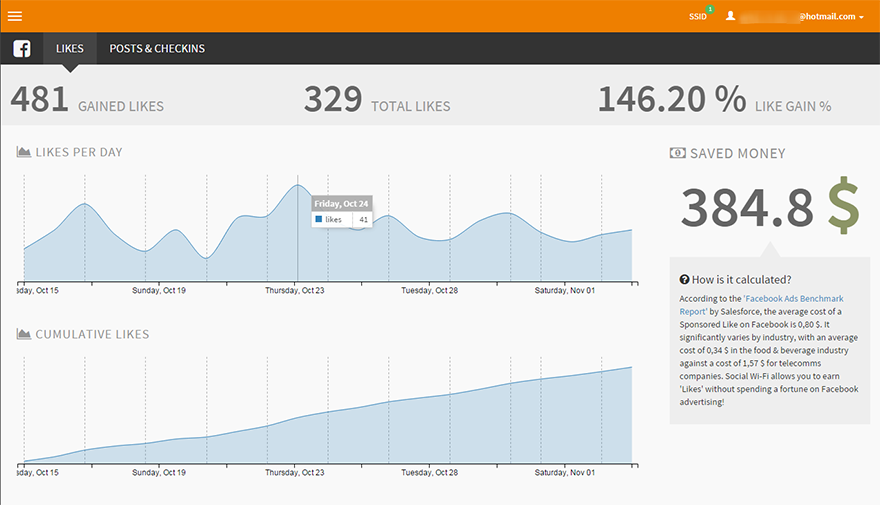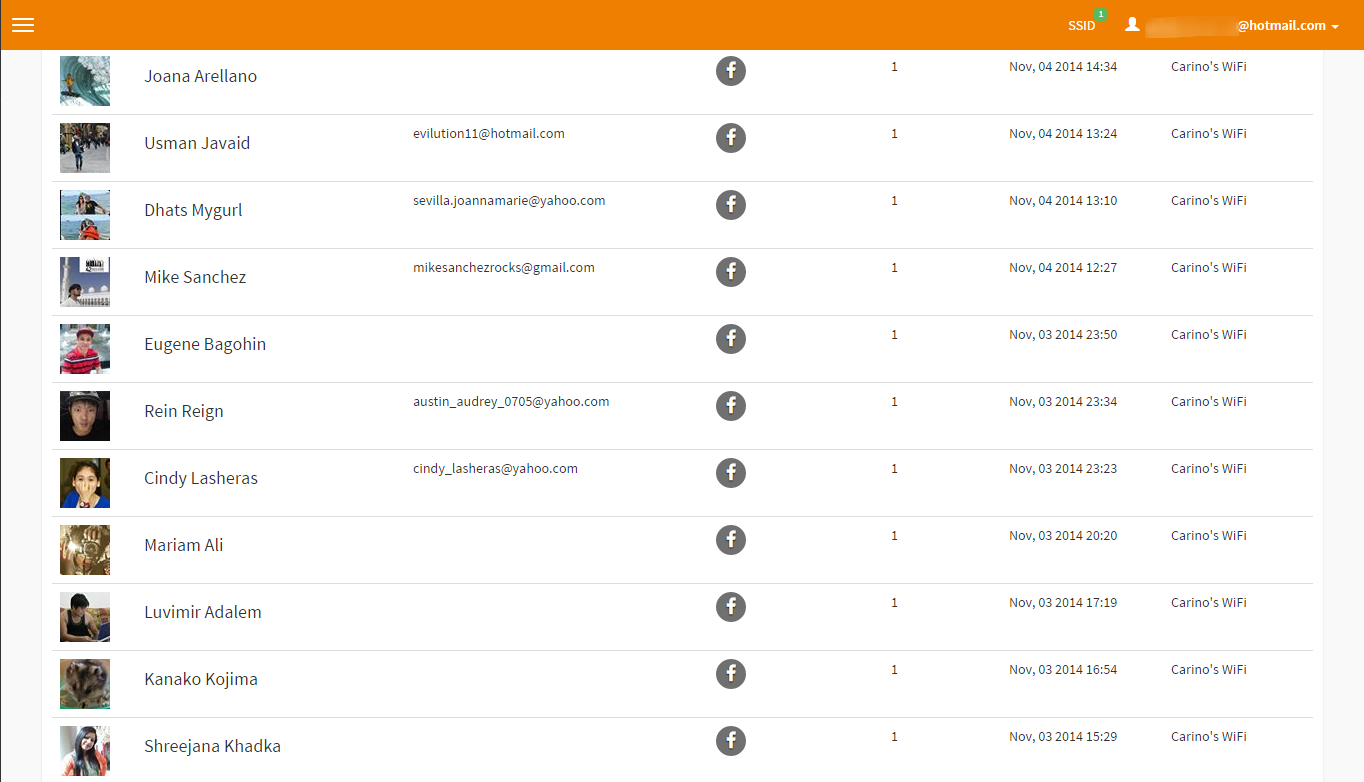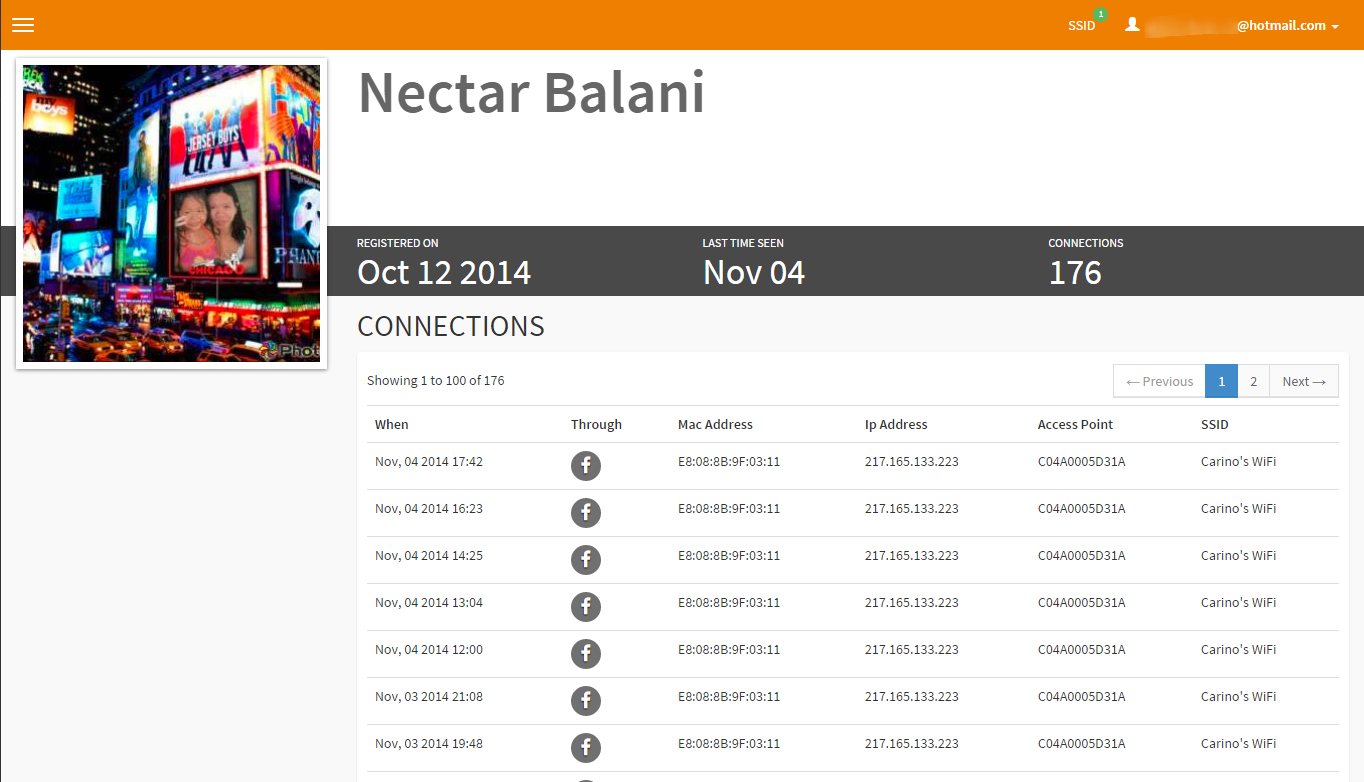 How does Socio-Fi help me?
Once you've implemented Socio-Fi, you'll save time and money in the following ways.
Ensure your customers are always informed across social networks.
Increase your email/sms database with interested customers.
Save marketing costs (including blanket radio and print advertising costs).
Save data collection employee costs.
Remove extreme and inefficient/inaccurate data collection methods.
Target specific customers by their interests.
Automatically email/sms customers based on time and activity triggers.
Collect Facebook likes automatically.
Increased social network reach due to relevancy.
Customer "Like" your Facebook page for Free Wi-Fi Access
The fastest way to increase brand awareness is word of mouth—and that's exactly what Socio-Fi does. Using a free, secure WiFi connection, customers connect instantly using their Social Media accounts. What's more, all social media accounts, like Facebook, Twitter, Google, Instagram and Windows Live are customized directly for your business' WiFi account – no redirecting necessary.
More Facebook / Twitter Followers
Advertise to Customer's Friends
Collect Customer Email and Phone List / Demographic
No password for Wi-Fi access anymore
WiFi Analytics
Know thy customers better! The Socio-Fi Portal includes a detailed analytics platform with real-time and historical customer data and trends. Secure and available anytime, our tools help you analyze and segment your audience.
Organic Social Media Growth
It's not easy to grow your social network..until now with our guest WiFi marketing software. Everyone who logs onto your WiFi will be asked to 'Like' you on Facebook or 'Follow' you on Twitter or Instagram or Google Plus. Socio-Fi WiFi allows you immediate social media engagement to a wider network of friends and their followers.
Campaign Ready
Send direct messages each month using both email and Facebook notifications to inform of promotions and events. Save on printing and mail costs – get your message directly to your actual customers. The effectiveness of print campaigns ranges from 1-4% – however, with Facebook notifications this increases to 25-47%.
Promote, Promote, Promote
Everyone on your WiFi will see current promotions & offers. You can also set up co-sponsored advertisements! Create unique messages to appear at different times & days. Schedule advance messages, including unique social media posts. Simple to use – no graphics experience required!
Customer Database
Every guest logging into our WiFi will be automatically added to your customer database. This allows you to communicate with the people who have already benefitted from your services and are likely to return and bring their friends.
Marketing Materials
You'll receive stickers and display signs informing your customers of a free wiFi network available at your business encouraging people to log in. As more users come on line, the larger your database grows, get more recommendations and extend your campaign reach.
Step 1

We will install an Access Point and connect it quickly and simply to your internet connection with a single cable

Step 2

We will setup your Facebook page and style the log-in page in line with your company branding

Step 3

Your visitors then 'Like', 'Post' or 'Check-in' your Facebook page and gain FREE access to your Wi-Fi

Step 4

All their online friends see your company name in their friend's Facebook updates

Step 5

Your visitors enjoy free WiFi, and you enjoy autopilot marketing.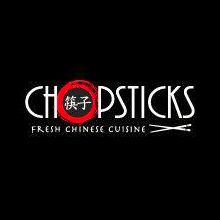 Chopsticks
Dubai/Al Ain/Sahara Mall
Fresh Chinese Cuisine in a casual dining setting & home delivery.
More traffic experienced 60%

Walk-ins turned into regulars 74%

More Revenue Generated 66%
Carino's Italian
Dubai Festival City / Dubai
Italian food with a Texan influence in Dubai. This classy Italian will most definitely impress.
More traffic experienced 73%

Walk-ins turned into regulars 77%

More Revenue Generated 60%
Osteria NYC
Burjuman / Dubai
Osteria is a refreshing departure from the usual restaurant cliches. Osteria serves crowd pleasing Italian fare that is both affordable…
More traffic experienced 67%

Walk-ins turned into regulars 65%

More Revenue Generated 45%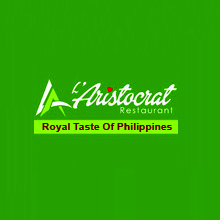 La Aristocrat
Wafi Mall / Dubai
Offering royal taste of Philippines at Wafi Mall near Dubai Health Care City.
More traffic experienced 69%

Walk-ins turned into regulars 77%

More Revenue Generated 62%
79
79% of mobile consumers are influenced by the availability of in-store Wi-Fi when deciding where to shop.
64
64% of respondents make a restaurant/cafe choice based on availability of Wi-Fi services.
63
63% of adults normally use the Internet wirelessly on a smartphone, tablet, laptop or e-reader.
86
86% of all tablets require a Wi-Fi connection to access the internet.
75
75% of smartphone owners use Wi-Fi on their devices.
77
Even the "least" interested shoppers, age 45+, are over 77% influenced by in-store Wi-Fi availability.
"I am incredibly happy with the increased traffic to Osteria since Socio-Fi got installed!"
Operations Manager Osteria NYC
"Our Facebook page couldn't manage that many likes without Socio-Fi. Now our traffic and branding on Facebook page is much better than before!"
Restaurant Manager Carion's Italian
"Its all about increasing your likes, collecting customer data and emailing them back offers to have them back in your restaurant. If its all done in a right manner, it really works!"
Marketing Manager La Aristocrat
No 10, Murad Building, Bur Dubai, Souk Al Kabeer,
Dubai, United Arab Emirates